It isn't exactly something that many of us pay attention too or think about that often, but the idea of putting cladding on your home should be a rather big consideration when designing your home or redeveloping. The versatile nature of cladding means that the number of materials that can be used is very extensive. This allows for the more creative of us to have that little bit more freedom and not have to worry about cost too much!
Whether you are thinking of having new cladding put on your roof or walls, or already have existing cladding there, you really should read through our advice to make sure you know exactly the best type for your home. From price to which materials work best, we can help sort out the right the choice.
Showcasing your new timber-frame home with a stylish surface finish will add to the wow factor of the building due to the huge range of materials. Whether you want a shiny, metallic look, or a classic wood finish there is something that will suit all needs. We do have to recommend checking whether your local planning department has restrictions on the type of material you end up using.
Cladding isn't just a pretty face. All types will protect your home from the outdoors, but some have better properties than others. We would always advise getting advice on what will suit your home best, along with what material would suit your needs.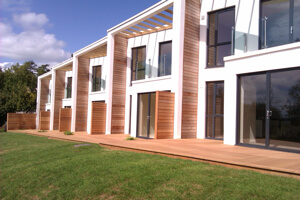 On a practical note, cladding can be fitted as part of the first fix, as plumbing, electrics and plaster boarding can be done while the external cladding is being installed, so speeding up the build by a few weeks and saving on costs.
Ask the manufacturer about warranties for the cladding, and check that the material is acceptable to your structural insurance provider, to ensure that you're covered. In essence cladding can become a cheaper way to add value to your property and an amazing outward appearance to your home!
When it comes to materials and cladding, people have used a host of different materials in the past, however there are three main types that are most common throughout the UK. People may wonder, why is it important to choose the correct material? Well dependent on what results you want, choosing the right material is a crucial step. Coupled with the fact that the outward appearance will set the standard for your home, this is a huge choice!
Brick - For the look of solid brick without the hassle, consider brick-slips – thin slices of brick used as a lightweight alternative to regular bricks. This classic approach is tried and tested in many home and is sure to always stand up against the elements.
Wood - The classic choice, timber weatherboarding can give your home a fashionable New-England effect, though other patterns, including herringbone are available, too.
The wood can be chemically preserved to maintain the color, but bear in mind that timber will react to the weather. It can be treated before or after cladding. Hardwoods, from Europe or the tropics, are more durable but more costly than European softwoods, which tend to be more eco-friendly. Try ThermoWood from Finn Forest, which is treated to reduce its thermal conductivity.
Render - If you're after a smooth finish then render is best for you, however you'll need to call in the professionals, as it's hard to get right. Since the pigment goes right through all the layers, it won't lose its color. External wall insulation covered by a render of your choice can be applied to new or existing homes to improve warmth and comfort levels, or choose a thermal render. Application takes around three days.
What we have here is only advice and guidelines. We have to say that people can get very creative with cladding and that too is a great thing! Always make sure that you contact a professional with any ideas or questions, as cladding is best left to a team of trained contractors. Have fun with your home though and see it as an amazing way to add value and substance to your house!